Addressing

Procurement's

Solution Gap in


Strategic Planning and Measurement
It's time to solve for what's been missing in Procurement so that you can make significant, meaningful improvements to strategic collaboration, pipeline management, and measurement. Source-to-pay tools have focused on operational productivity, but now it's time to focus on proactive planning and ongoing performance tracking to support the business.
The recommendation is to link ongoing, active insights from Spend Intelligence to centralized Procurement Performance Management.
Get this practical ebook to learn about why this gap persists and a proven solution approach:
The problems faced when supporting Procurement strategy

The issues with data, inconsistent processes and using the wrong tools

Making the case for connecting spend analytics with performance management

Overview of a market-proven solution and its key capabilities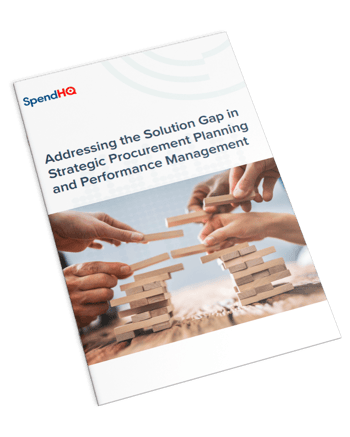 Benefits that Procurement teams realize include increased savings, advancement on non-financial and ESG goals, improved compliance, maturity curve progress, and stakeholder alignment.